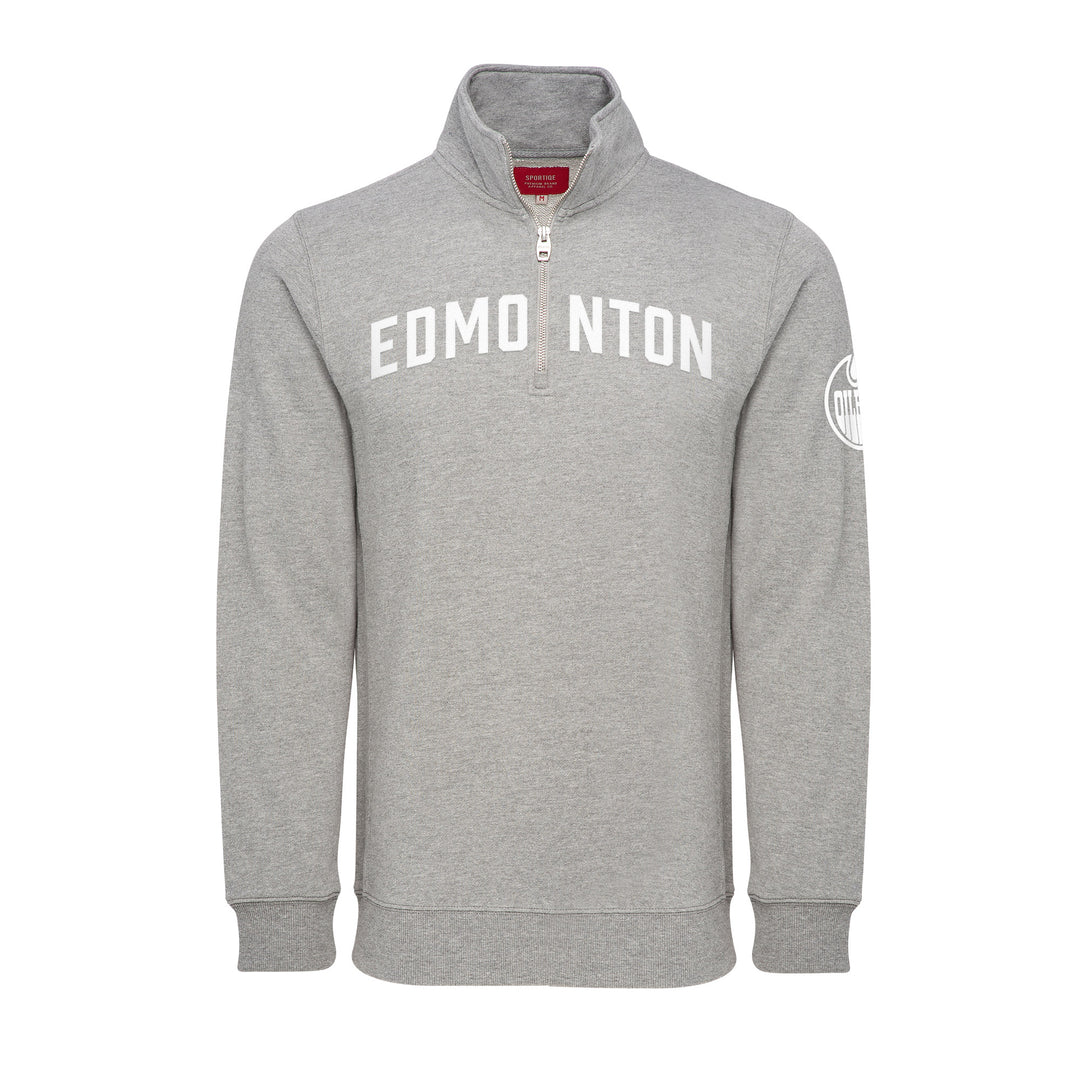 Edmonton Oilers Sportiqe Navigator Fleece Half-Zip Sweatshirt
---
Size chart
SPORTIQE OLSEN/BLAKE HOODIE
SIZE
XS
S
M
L
XL
XXL

BODY LENGTH (IN.)

26 1/2

27 1/2

28 1/2

29 1/2

30 1/2

31 1/2

CHEST WIDTH

39

41

43
45
47
49
 

NECK WIDTH

16
17
18
19
20
21

SLEEVE LENGTH

23 1/2

24 1/2

25 1/2

26 1/2

27 1/2

28 1/2
SPORTIQE OLIVER HOODIE
SIZE
XS
S
M
L
XL
XXL
3XL

BODY LENGTH (IN.)

26

27

28

29

30

31
32

CHEST WIDTH

39

41

43
45
47
49
51
 

NECK WIDTH

11 3/4
12
12 1/4
12 1/2
12 3/4
13
13 1/4

SLEEVE LENGTH

28 1/2

29 1/2

30 1/2

31 1/2

32 1/2

33 1/2

34 1/2
SPORTIQE HARMON CREWNECK
SIZE
XS
S
M
L
XL
XXL
3XL

BODY LENGTH (IN.)

25.5

26.5

27.5

28.5

29.5

30.5
31.5

CHEST WIDTH

39

41

43
45
47
49
51
 

NECK WIDTH

7
7 1/4
7 1/2
7 3/4
8
8 1/4
8 1/4

SLEEVE LENGTH

28 1/2

29 1/2

30 1/2

31 1/2

32 1/2

33 1/2

34 1/2
 SPORTIQE WOMEN'S AVA PULLOVER HOODIE
SIZE
XS
S
M
L
XL

BODY LENGTH (IN.)

22
23
24
25
26

CHEST WIDTH

38
40
42
44
46
 

NECK WIDTH

9
9 1/2
10
10 1/2
11

SLEEVE LENGTH

22 1/2

23 1/2

24 1/2

25 1/2

26 1/2
SPORTIQE COMFY TEE
| | | | | | | | |
| --- | --- | --- | --- | --- | --- | --- | --- |
| SIZE | XS | S | M | L | XL | 2XL | 3XL |
| BODY LENGTH (IN.) | 27 | 28 | 29 | 30 | 31 | 32 | 33 |
| CHEST WIDTH | 37 | 39 | 41 | 43 | 45 | 47 | 49 |
| NECK WIDTH | 6 1/4 | 6 1/2 | 6 3/4 | 7 | 7 1/4 | 7 1/2 | 7 3/4 |
| SLEEVE LENGTH | 7 1/4 | 7 3/4 | 8 | 8 1/4 | 8 1/2 | 8 3/4 | 9 |
SPORTIQE BINGHAM TEE
| | | | | | | | |
| --- | --- | --- | --- | --- | --- | --- | --- |
| SIZE | XS | S | M | L | XL | 2XL | 3XL |
| BODY LENGTH (IN.) | 27 | 28 | 29 | 30 | 31 | 32 | 33 |
| CHEST WIDTH | 37 | 39 | 41 | 43 | 45 | 47 | 49 |
| NECK WIDTH | 11 1/2 | 12 1/2 | 13 1/2 | 14 | 14 1/2 | 15 | 15 1/2 |
| SLEEVE LENGTH | 7 1/2 | 7 3/4 | 8 | 8 1/4 | 8 1/2 | 8 3/4 | 9 |
SPORTIQE LONG SLEEVE COMFY TEE
| | | | | | |
| --- | --- | --- | --- | --- | --- |
| SIZE | S | M | L | XL | 2XL |
| BODY LENGTH (IN.) | 25 1/2 | 26 1/2 | 27 1/2 | 28 1/2 | 31 |
| CHEST WIDTH | 17 1/2 | 18 1/2 | 19 1/2 | 20 1/2 | 47 |
| NECK WIDTH | 7 1/2 | 7 3/4 | 8 | 8 1/4 | 7 1/2 |
| SLEEVE LENGTH | 27 | 25 1/2 | 26 1/4 | 27 | 27 3/4 |
SPORTIQE WOMEN'S PHOEBE TEE
| | | | | |
| --- | --- | --- | --- | --- |
| SIZE | S | M | L | XL |
| BODY LENGTH (IN.) | 25 1/2 | 26 1/2 | 27 1/2 | 28 1/2 |
| CHEST WIDTH | 17 1/2 | 18 1/2 | 19 1/2 | 20 1/2 |
| NECK WIDTH | 7 1/2 | 7 3/4 | 8 | 8 1/4 |
| SLEEVE LENGTH | 5 1/2 | 5 3/4 | 6 | 6 1/4 |
MOHAVE LONG SLEEVE
SIZE
S
M
L
XL
2XL
3XL
BODY LENGTH (IN.)
28
29
30
31
32
33
CHEST WIDTH
40
42
44
46
48
50
NECK WIDTH
14

15

16

17


18

19

SLEEVE LENGTH

26 1/4

 

27

27 3/4

28 1/2

29 1/4

30
The Edmonton Oilers Sportiqe Navigator Fleece Half Zip Sweatshirt was designed with comfort and quality in mind. It is made with ultra-soft brush fleece fabric and features reinforced seams for full range of motion. Its modern design features a half-zip closure and contrast trim for an athletic, stylish look.
SHIPPING RATES
For domestic (Canada) orders, shipping will vary based on location. Exceptions apply for international shipping, including shipping to the US. Exceptions also apply in the case of special product that requires additional shipping costs. Please see rates at checkout for final confirmation of shipping charges.
SHIPPING TIMES
We aim to fulfill orders within 48 hours (Monday - Friday). Canada Post aims to deliver within 3-9 business days (within Canada and the USA) once picked up from our store.
Exceptions apply for pre-ordered product as well as made-to-order product (such as customized jerseys).
RETURN POLICY
We cannot accept any returns or exchanges on international orders under any circumstances.
We will gladly accept returns and exchanges for purchases made within the last 30 days. To be eligible for a refund on a return, your item must be unused, in the original packaging, and in the same condition that you received it. If damaged, worn, or open items are returned, we may not be able to process your refund. These same standards apply for eligibility to make an exchange.
Unfortunately, we are unable to accept returns for the following items, and as such, they are FINAL SALE:
Customized jerseys
Face masks
Gift Cards
Game Used Items and Equipment
Concert/Event Items, Locker Room Sale Items
Shipping Costs
Package Protection Costs