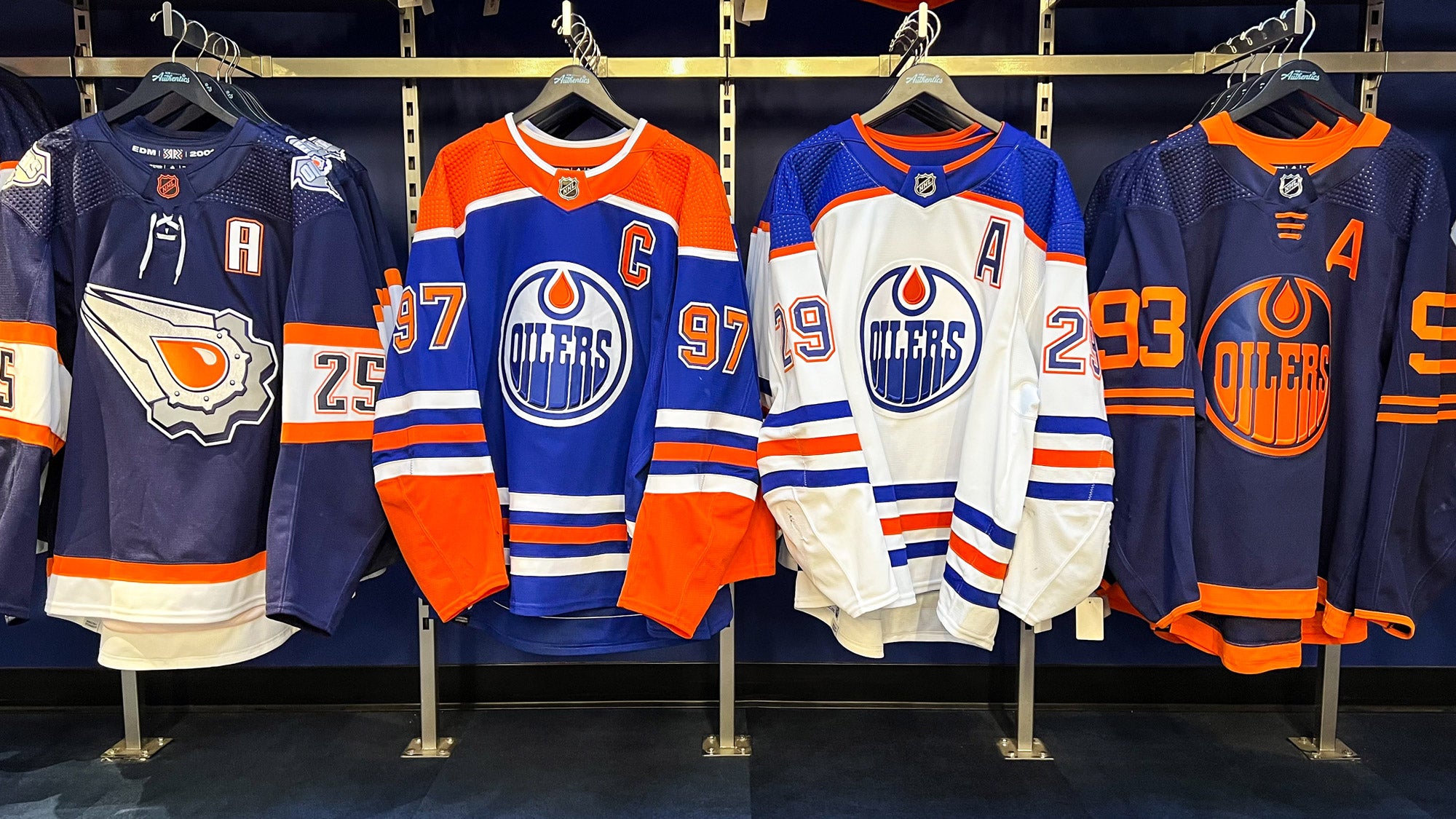 THE EDMONTON OILERS GAME-WORN JERSEY PROGRAM
Jerseys will be released through various channels according to a schedule determined by Edmonton Oilers Game Used Officials. Jerseys sold online and in-store through ICE District Authentics are sold on a first come first served basis. For jerseys purchased online, payment can be made by adding the desired item to your online cart and checking out through the website.
Edmonton Oilers jerseys are offered for sale direct to Oilers fans locally and worldwide exclusively through the following channels:
IceDistrictAuthentics.com
ICE District Authentics Flagship Store
NHL Online Auctions
Select Edmonton Oilers Locker Room Sale Events at Rogers Place
Jerseys will be released through various channels according to a schedule determined by Edmonton Oilers Game Used Officials. Once a specific set release date has been determined, it will be updated in the release calendar below.
To be the first to know when new jerseys are available for sale, please sign up for the ICE District Authentics Club newsletter at the bottom of this page!
Please note: The Edmonton Oilers reserve the right to retain any player jersey including milestone jerseys and cannot guarantee that a specific jersey from a specific set will be available.
We will not be offering preorders for game worn jerseys as they will be sold on a first come first served basis.
Each jersey comes complete with:
an Edmonton Oilers Team Jersey Set Tag sewn into the lower inside hem
a Game Worn Jersey Serial # Tag sewn into the lower inside hem
a Letter of Authenticity from the Edmonton Oilers Hockey Club
All jerseys offered are guaranteed authentic and "Game Worn" by the player listed unless otherwise specified and in that case will be clearly marked and sold as "Game Issued" only if the player did not wear the jersey prepared for them by the team
At the end of every season, we will upload a report of that season's game worn jerseys sorted by serial number which will verify which set and player each jersey belongs to.
Yes. All game worn jerseys are washed following each game. This may cause some game related marks to be washed off or lightened.
No. Unless otherwise specified, these jerseys are not autographed and will deliver exactly as they were worn during their respective NHL games.
A "Game-Worn" jersey will be worn by an Oilers player in an official NHL pre-season, regular
season or play-off game and will deliver tagged with our official team set tag and serial # tag sewn into the inside hem. These jerseys will be tracked in a report which will be released at the end of each season.
Jerseys that are "Game-Issued" were made for the player by the team and are tagged in a similar manner, however, were NOT worn in a game. This means the jersey was made for the player to use, but they never appeared or used it in a game. These jerseys are still team-issued, authentic jerseys customized for the player but will show no signs of wear or game use as the player never put it on or wore it. These jersey will be marked on file in our database as "Game Issued Only" and the jersey will also be marked on the fight strap.
Yes. The Edmonton Oilers Game Worn Equipment Officials maintain a database of every jersey created and issued to each respective player for offiicial on-ice pre-game warmup and game-use. At the end of each season, a report will be posted on this website which lists every jersey created by the team and issued for official team use. This registry will include warmup jerseys (promotional and charity night sets), regular season, and playoff game jerseys, and will be sorted by serial number and will verify which jersey was worn by each player in each official team jersey set worn during the season.
Game Used Items and Equipment, including Game Worn jerseys, are excluded from all discounts.
All game worn and / or game issued jersey sales are final. No refunds, exchanges or
credits will be given.
Edmonton Oilers Game-Worn Jersey Release Dates